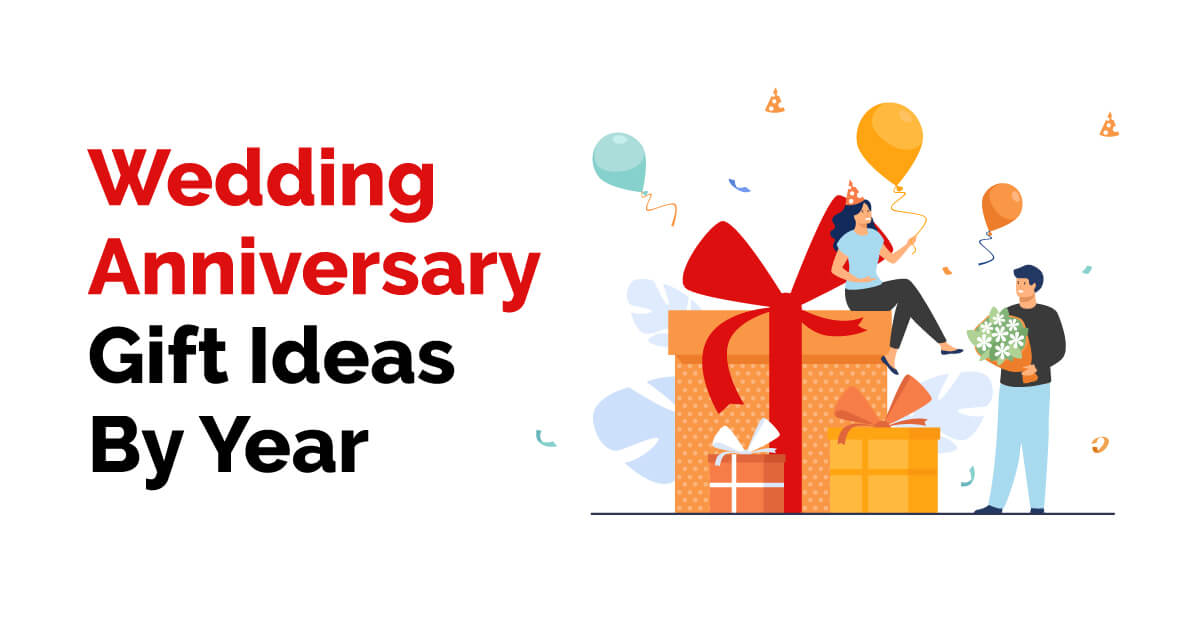 Introduction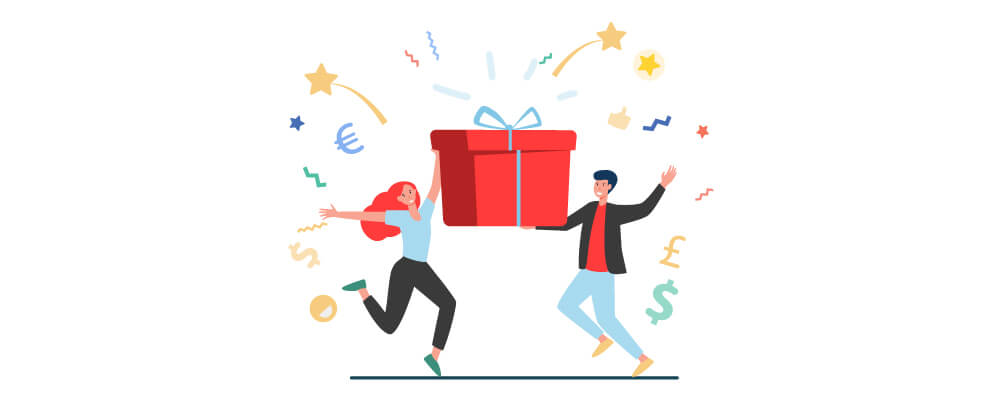 It's that time of year again. You've made it through another year together, and it's time to celebrate! Or maybe you're trying to find a gift for a loved one on their anniversary. Whatever the case, a special occasion calls for one thing – a gift!
It can often be a challenge to buy the right gift, especially if you don't know what you're looking for. Thankfully, we have a few ideas for you! Here's everything that you need to know about buying the perfect anniversary gift based on the years of marriage!
Traditional Anniversary Gifts By Year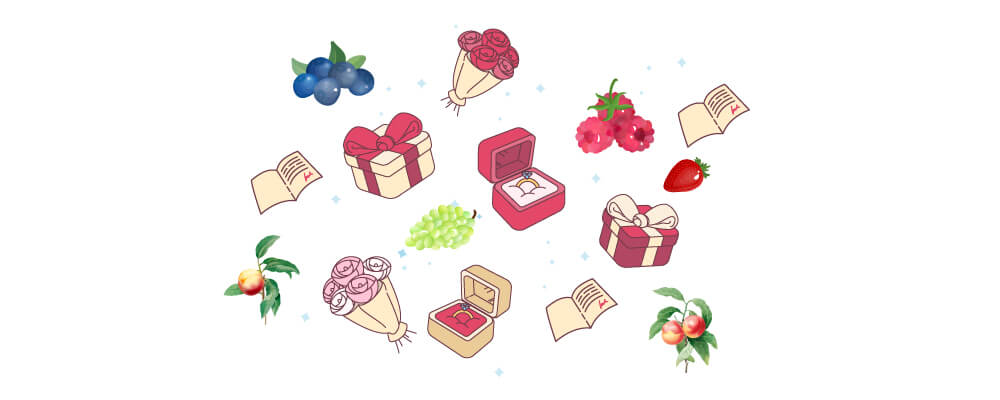 Sometimes it can be a good idea to go back to the basics when it comes to buying gifts. What better way to get inspiration for a gift than to look back on tradition? Each year of marriage is symbolized by a different item, and if you get creative, you can really find something special every year with the different themes.
1st Anniversary: Paper
The first anniversary is so special and a great way to mark a happy, blissful year together after tying the knot. The very first year of your marriage is symbolized by paper. According to tradition, paper is symbolic of the fragility of such a young marriage. It also symbolizes the knowledge that you have acquired in that first year.
Of course, you don't want to just grab a piece of paper out of the printer, hand it to your spouse and call it a day, do you? No – this is where you should get a little creative! What you choose can largely depend on your budget. One really thoughtful gift is to get some nice stationery and some high-quality paper and you could write a love letter for your loved one. You could create little coupons out of paper that they can redeem for things like favors and chores. Alternatively, you could pay them tribute in a local anniversary – though this may cost quite a bit of money! 
2nd Anniversary: Cotton
Your second anniversary is symbolized by cotton, a material that is designed to reflect how your marriage brings you and your spouse together due to the interwoven material. As you can probably imagine, there are a wide variety of different things that you could give as a gift with this theme in mind.
If you're on a bit of a budget then you could pop to a local store and get them a nice new T-Shirt. You could even get one with a unique yet relevant design from Etsy or Redbubble! You could give them clothing like pajamas or socks, or even a luscious bathrobe! Even a new blanket would be a great idea.
3rd Anniversary: Leather
Leather symbolizes flexibility, durability and protection – all things that are relevant to your ever-growing marriage. It's fitting that this tough material symbolizes your third year together!
 Since this is a material that your spouse can wear, your options for this anniversary are vast. For instance, you could give them a leather-bound journal, or a bracelet made out of braided leather. Alternatively, you could also splash the cash on a fancy leather jacket that they can show off when walking about the town! A pair of gorgeous leather shoes will always go down a treat too. 
4th Anniversary: Fruit or Flowers
A slight deviation from the materials listed for previous anniversaries, the fourth anniversary is symbolized by fruit and flowers. The symbolism here is clear – it represents a blossoming marriage. It shows how things will grow if you only nurture them properly.
This year is especially great because you can enjoy the edibles! For instance, you could indulge in some delicious chocolate dipped strawberries with your loved one. Likewise, you could buy them a thoughtful bouquet of their favorite flowers. Flower picking or fruit picking at a local farm is a lot of fun too! How about a fruit basket with all of their favorites?
5th Anniversary: Wood
This is another material that symbolizes strength and durability. The 5th year is a pretty big milestone, so you need to make sure that you are celebrating in style. After all, you've been married for half a decade! 
Buying the perfect gift for this anniversary should be a piece of cake. You can get them a wooden sculpture of their favorite animal, put a beloved photo in a unique wooden picture frame or you could even buy them a tool shed! For something more unique that will last for years to come, why not plant a tree in the garden? 
6th Anniversary: Candy or Iron
There's nothing quite like some edibles to really say I love you! The sweetness and durability of your marriage is now solidified in your sixth anniversary, so it's time to get creative with your gifts.
This should be a piece of cake – no pun intended. Grab some yummy candy hearts and give them a message written in the candy. Maybe you could make them some treats? Get them some new candy they've never tasted – you could even taste the candy together as a bonding experience. Some fantastic gourmet chocolates should go down well too. For iron, you can get them a wonderful furniture set for the patio.
7th Anniversary: Wool or Copper
The comfort of your marriage keeps you warm and safe, much like a wooly sweater! This should give you plenty of inspiration – perhaps you could make the sweater yourself if you have the means to do so. A cashmere sweater would be fantastic for them. For copper, why not try giving them an ornament that they can cherish?
8th Anniversary: Pottery or Bronze
This one may seem a little tricky, but we've got you covered. If your loved one is fond of flowers, you can get them a gorgeous vase with flowers in it. Remember the card! You can get them a hand crafted mug from a pottery shop nearby, or you can get them a ceramic sculpture that they may like. 
9th Anniversary: Willow or Pottery
You've seen our suggestions for pottery for the 8th anniversary, but what about willow? You can see willow as synonymous with wicker, in which case there are lots of options. You could make them a picnic basket and go on a trip, or a custom gift basket could be nice! How about planting a willow tree? Wicker furniture?
10th Anniversary: Tin or Aluminum
The 10th anniversary is a huge milestone – you've made it a decade! We can't all afford an expensive Diamond necklace like the Duke of Cambridge though, so it's time to get more creative.
To incorporate the tin or aluminum into the gift, you can try packaging it in a metal box. A candy box could be a lot of fun, for instance! You could get them some fun aluminum camping cookware ahead of a rendezvous in a scenic location for the weekend. You could make them lunch to go in a metal box! 
20th Anniversary: China
Another decade has passed and it's time to celebrate with China! The most obvious choice here is dinnerware and plates, but it doesn't have to be so basic. For instance, you could design your own bowl if you get one that's plain that you can paint over. You could get some fancy china to go in the house – you could choose something together if you wish!
25th Anniversary: Silver
This anniversary may seem like an expensive one if you are short on cash, but it truly doesn't have to be. This anniversary can be what you make of it! For instance, you could buy a gorgeous silver pen and write a note to go with it. You could get them some silver jewelry or some cufflinks. How about a piggy bank made of silver?
30th Anniversary: Pearls
The Pearl wedding anniversary is a pretty big deal – you've been married for a whopping 30 years! 
Pearls can be expensive, but you don't have to just buy a pearl necklace for your loved one in order to give them a great gift this year. For instance, why not go for a meal and have some oysters to start? Buying items with pearl accents can also work, like cabinetry or jewellery. If you have more money to play with, you could visit the Freshwater Pearl Farm in the Tennessee River as a fun getaway.
35th Anniversary: Coral
For the coral anniversary, why not try a delectable seafood meal with dinnerware in a coral color? Perhaps you could even go scuba diving and see the coral underwater! Take a trip to somewhere like Hawaii or Fiji and see the coral reefs. There are a bunch of coral themed gifts you can buy too, like earrings or you could write a letter on some coral paper.
40th Anniversary: Ruby
What a milestone, the Ruby Anniversary! Use the color as your inspiration – red shirts, red wine, red silverware – you name it! How about some roses? If you have a little bit of extra money then the choice is fairly obvious – get them some stunning jewelry adorned with rubies.
45th Anniversary: Sapphire
Play around with the blue color in sapphire. Perhaps you could enjoy a day at the pool? Maybe some blue china dinner plates or an engraved photo frame. How about some Sapphire gin, or a blue sapphire shaped paperweight? For a pricier option, you could try some cuff links or jewelry with sapphires. 
50th Anniversary: Gold
Your marriage is one that has truly stood the test of time – it's as precious as gold. You should get a gift that will reflect that.
Golden flowers are a must for this anniversary – for instance, tulips, daffodils or sunflowers. Use gold wrapping paper or bags for your gifts. You can get items like photo frames made with gold accents. If you've always wanted a dog, maybe now's the time for a golden retriever – they'll certainly be a gift that will keep on giving! Gold jewelry is a classic choice, including gold watches and earrings.
55th Anniversary: Emerald
55 years calls for some gorgeous emerald gifts. Try some emerald colored clothing, or other gifts that are green themed – green tea, candles, snacks. Get them some jewelry that's adorned with emeralds, or visit a location with emerald colored oceans.
60th Anniversary: Diamond
The next big anniversary is the diamond anniversary, signifying a tremendous 60 years of marriage. This is a huge deal, so it's time to really impress with a gift. It doesn't need to be anything overly extravagant though. For instance, you could simply stay on vacation in a place that has the word diamond in the name. At this point you could even get a shout out from the White House! If you have some cash to spare, get your spouse some special diamond jewelry to celebrate! 
Modern Theme Anniversary Gifts By Year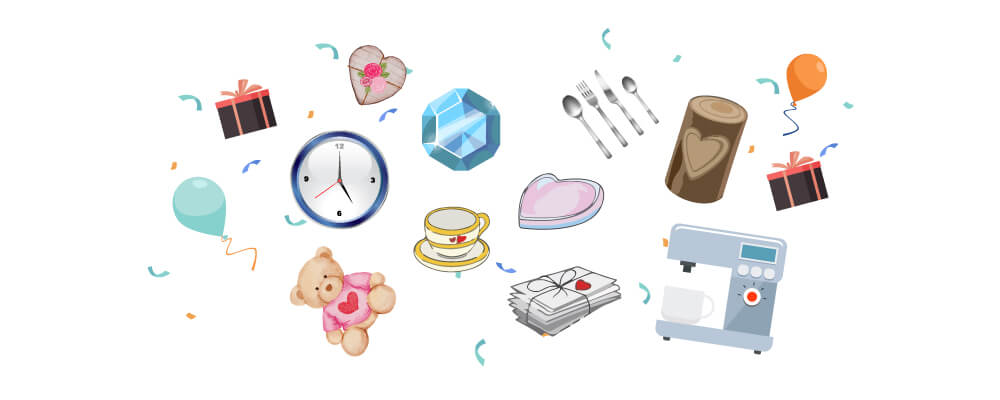 Want something with a slightly more modern twist? Here are some of the modern themed anniversary gifts based on the year.
1st Anniversary: Clocks
In modern symbolism, we associate the first wedding anniversary with clocks. There is a really sweet meaning behind this – it's supposed to symbolize love and how it's timeless in nature. There are so many unique gifts that you can buy in this category. For instance, you could buy your loved one a new watch. Perhaps you could get a smartwatch that they can also use to track things like their fitness and heart rate! A wall clock can come in lots of different designs too, and it will stay on your wall for you to look at whenever you need to know the time. If you are quite well versed in arts and crafts, you could potentially make them a clock out of origami. It may be challenging, but they are sure to appreciate the thought.
The first wedding anniversary is also symbolized by a color – yellow or gold. For this, you can get them some gold jewelry, or you can get some pretty yellow flowers.
2nd Anniversary: China
China is a great gift for a second anniversary, since it stands for beauty and preciousness. There are a number of different things that you can use for this, such as cups and bowls made of china, or china dolls that you can use as decoration in the house. What about a wedding ring holder made out of some beautiful china? 
The second anniversary is often associated with the color red, and you can use this as inspiration in your gift giving too. Red clothing can work, and you can also give garnet jewelry. This anniversary is signified by flowers known as cosmos too – these come in a red color, and you could get them for your spouse and plant them in the garden. 
3rd Anniversary: Crystal
Traditionally, the 3rd wedding anniversary is usually associated with leather materials. This is quite different with modern anniversaries, where it is instead crystal or glass that symbolizes 3 years of marriage. Some potential gift ideas include some crystal decanters or a gorgeous dinnerware set made of crystal. In some places, you can actually visit a glass or crystal blowing store and they can make you an item from scratch and you can watch the whole process unfold. It's pretty cool!
This year, the color of the hour is white. Some gift ideas could be white clothing for instance, or some artwork on a white canvas. You can also buy them some fuchsias which are associated with the 3rd wedding anniversary too.
4th Anniversary: Appliances
For the fourth anniversary, you can give your spouse a gift that will be both practical and thoughtful! Appliances can come in a lot of different forms so just think of something that your spouse will like. For instance, a blender is useful if your spouse likes to eat healthy and have some smoothies. An air fryer is always a popular choice for something healthy, or you could get a toasted sandwich maker! The best part about gifting an appliance is that it's something you can enjoy using too! A coffee maker often works well too – perfect for an early morning pick me up before work.
For the 4th anniversary the color in question is blue or green. You could go down the jewelry route and get them items with zircon or blue topaz. You could get some comfy blue or green sheets for your bed – the options are endless.
5th Anniversary: Silverware
It's time to give your kitchen an upgrade with some thoughtful, strategically bought silverware for your partner! A dish set is a great idea, or you could get them a knife set – bonus points if you can get a knife block made of wood that you can put them in! 
Blue, pink and turquoise are colors that will be your best friends this year, so try getting some flowers that match these colors. Perhaps your silverware that you buy could have hints of the colors in them.
6th Anniversary: Wood Objects
As we've already discussed, wood objects are always a good choice for an anniversary, except this time it's for the 6th anniversary! Once again, you could try planting a tree and watching it grow together. Alternatively, you can buy or make them a material gift. If they enjoy playing chess, why not make them a chessboard? You could make a wooden sculpture for them or go on a site like Etsy where talented people can often make something custom to your requirements.
In terms of colors, the 6th anniversary is associated with purple, white or turquoise so you can really run wild with these colors. Alternatively, you could get them a bouquet of calla lilies, which represent an abundance of beauty. The gem stone is amethyst or turquoise, so again you can get items with these gemstones in if you have a little extra cash to play around with.
7th Anniversary: Desk Sets
For 7 years of marriage, you can give your spouse a desk set to celebrate the occasion. This may seem like a little bit of a bizarre gift to give, but with some thought you can give them something truly special. For instance, you could even get them a desk set that's copper and with that, you've made a combination of a modern and a traditional gift. 
For 7 years, you also have the option of the onyx gemstone. This gemstone is gorgeous and looks like a combination of black and white in color. You can get your spouse items with these color motifs. Alternatively, you can also use the yellow and white color scheme to your advantage. For flowers, freesias or jack-in-the-pulpits should be the choice you go for in order to stick with modern ideas.
8th Anniversary: Linen or Lace
Beauty and brilliance are at the forefront of thought when you hit the 8 year anniversary, with modern gifts of linen or lace coming into play. There are a few options here. You could get them some cozy linen bedding that they can snuggle up with at night. Some lace gloves can be a good choice, or some lace lingerie if you are feeling saucy.
There are actually two kinds of flowers that are associated with the 8 year wedding anniversary. These are the clematis and the lilac, both stunning flowers that will look wonderful in a vase. The color bronze is symbolic of 8 years too, so you could get bronze jewelry or even pottery for those gorgeous lilacs you're going to get! 
9th Anniversary: Leather
You're coming up on a decade, and this year leather gifts are all the rage! You can check out our section above on leather gifts, but as a quick recap things like new shoes, wallets and even chairs for the office can be a great choice. Alternatively, you can use the other symbols of nine years. 
For flowers, you can get your spouse birds of paradise or the poppy. Get her a bouquet and put them in a lovely vase that she can display on the window. You could also get perfume that smells like the flowers in question! 9 years is symbolized by terracotta, so you could go somewhere with a pretty terracotta landscape such as the Grand Canyon. There's nothing like bonding in nature to remind you of your love.
10th Anniversary: Diamond Jewelry
Traditionally the diamond anniversary would come much later on, but it's somewhat earlier by modern ideals. The blue sapphire is another good choice for this wedding anniversary. The best thing to do for this anniversary is to get your spouse some diamond jewelry if you can afford it. Some earrings, a necklace or cuff links will look lovely! 
Alternatively, other symbolism can be used. Daffodils are the flower of choice this year, so perhaps you could go daffodil picking? Daffodils are the national flower of Wales in the United Kingdom, so perhaps you could go there on holiday? The colors that you can use are silver and blue, which complement each other well. Use them on a shirt or on an ornament that you buy for your loved one.
20th Anniversary: Platinum
It's your platinum anniversary! This material is excellent for jewelry since it's so durable and resilient – much like your marriage! Cufflinks, rings and necklaces are a good choice here. Decor objects work too, like picture frames or ornaments. For colors, buy green items. If you want to buy some flowers, you can get daylilies. Perhaps you could even grow them in your garden.
35th Anniversary: Jade
For 35 years, Jade is the object in question! Jade is a green colored gemstone that looks similar to emerald in many respects, so it looks lovely in jewelry like necklaces and rings. If your loved one is interested in healing crystals then Jade is a fantastic choice. Use green colored clothing this year to really pack a punch.
The color associated with the 35th anniversary is coral. We've mentioned this previously, but going to places like the coral reefs can be a good choice here for a relaxing vacation.
How To Choose An Anniversary Gift For Your Spouse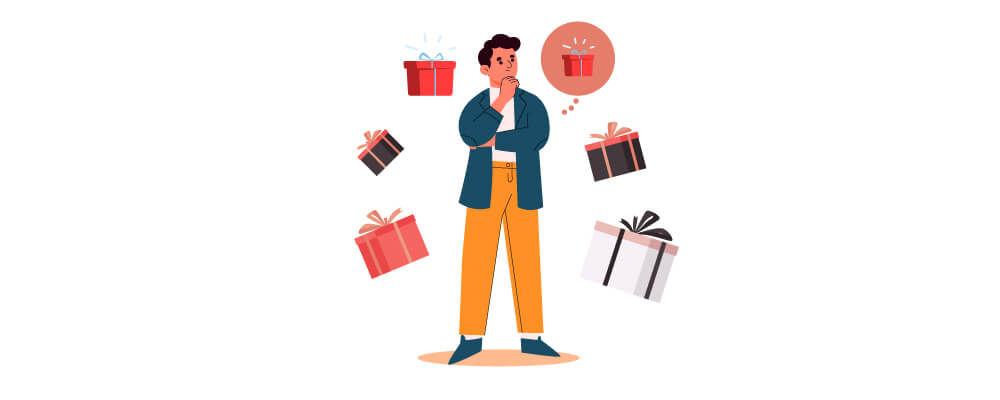 Still not sure how to choose? Here are some handy hints that you can try!
Write A List Of All The Things Your Partner Likes
You know your partner better than anyone. As such, you should find it somewhat simple to write a list of the things that your partner likes. For instance, maybe they like video gaming, or horseback riding. Write down everything you can think of, even their favorite kind of cheese. It may give you some inspiration as to what you can buy. After all, you are much more likely to get them a gift that they will truly like if you choose something that aligns with their tastes and interests. When you have done this, you can then look online for lists to give you inspiration – much like this one!
Think of Useful Gifts You Can Give
Practical gifts are always a good choice. For instance, does your partner like to cook? A handy cutlery set to help them to whip up some awesome meals may be a good choice. Maybe they struggle to keep track of their daily tasks, so you could get them a leatherbound diary that they can write in. Even a pair of comfy socks will go down a treat. It's the thought that counts!
Aim For Meaningful Gifts
Meaningful gifts are the ones that your partner will remember for years to come. For instance, a thoughtful photo album full of your favorite memories will be sure to make them tear up. Perhaps you could pay for a holiday to a location that means a lot to you both, or somewhere that they have always wanted to visit. There are so many options to try.
Give Gifts that Keep On Giving
When you buy someone a gift, you're usually getting them something that will be a one time thing. One smart alternative to giving them a material item is to give them a gift that keeps on giving. For instance, you could get them some tickets to a cooking class, or another item that will give them long term use. Maybe you could get them an air fryer that they can use all the time to make tasty meals!
Give Personalized Gifts
Everyone likes to have things that are truly personal, such as keyrings with your name on. That may not be sufficient for an anniversary though! Instead, a personalized wallet with their name on would be fantastic. A custom wine glass with their initials on? Yes please! If you're feeling particularly daring then you can make the gift yourself! 
Give A Gift That Will Give An Experience
We all love material things, but memories are often far more precious to us than anything that we can physically hold. As such, you should try to buy them a gift that will give them an experience. A holiday of their dreams, for instance – if they've always wanted to go to Disneyland, maybe now is the time to surprise them with it! Perhaps you can take them sea diving with dolphins, or on a walk to the Grand Canyon. A spa retreat, or a concert – it doesn't have to be anything major either! 
Summary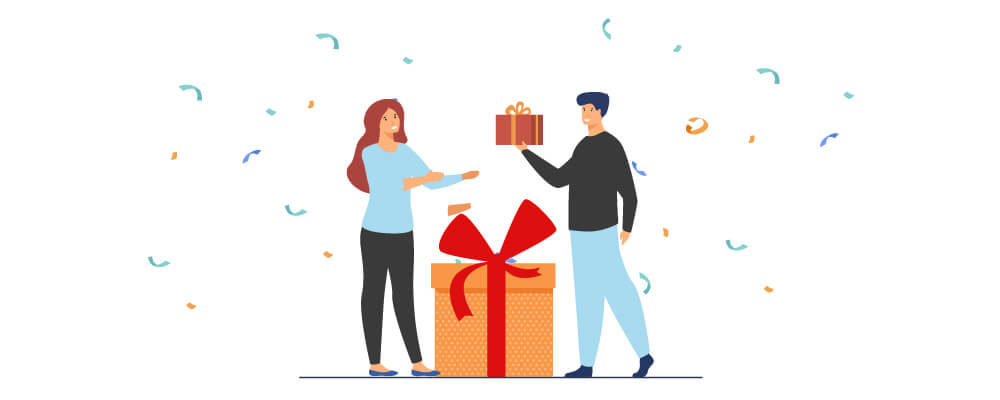 Nothing says 'Happy anniversary' like the perfect anniversary gift. We know from experience that it can sometimes be hard to find the right gift, but with a little bit of thought you are sure to get them a gift that they will remember for years to come.